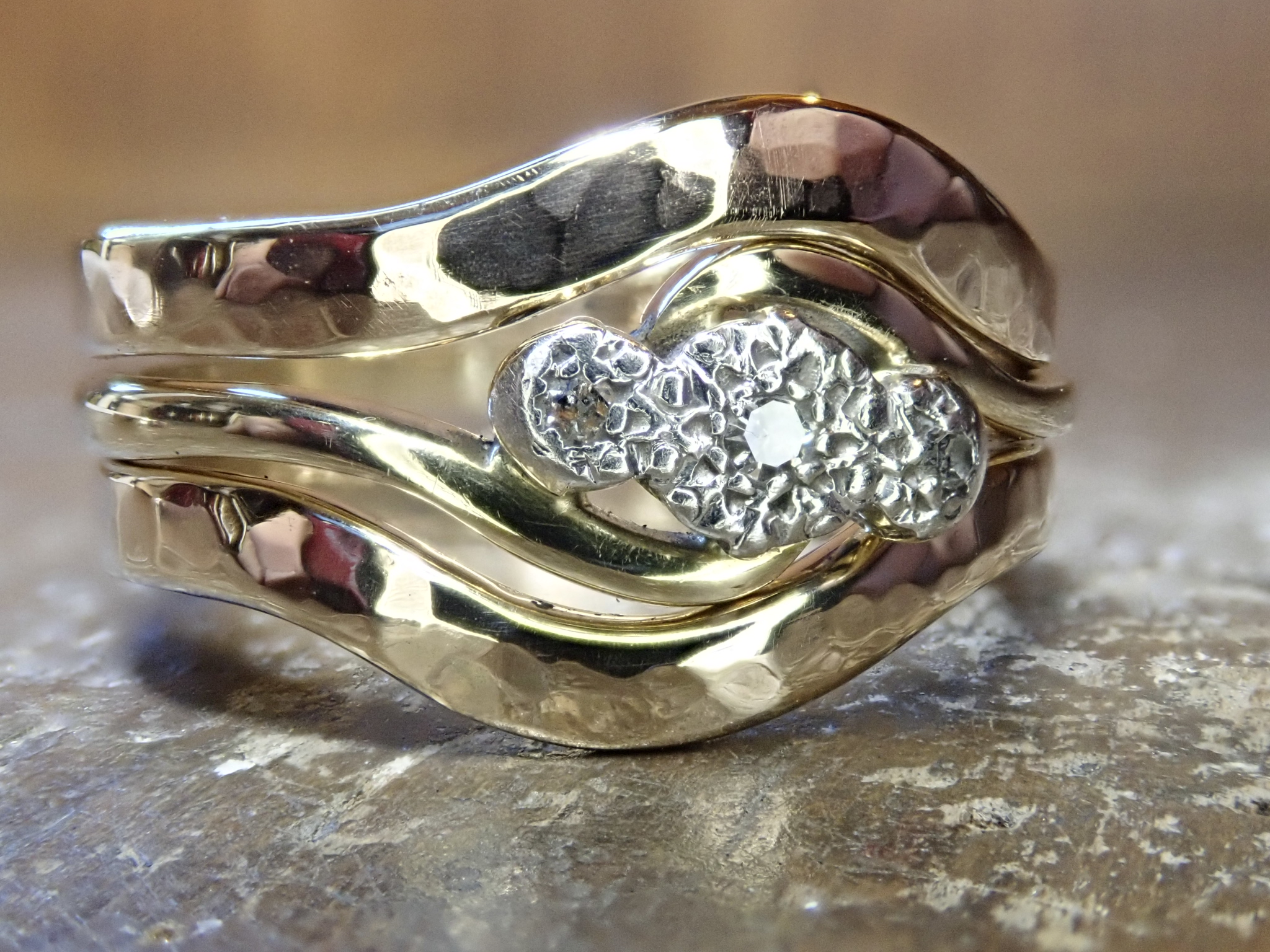 Remodelled "top and bottom" wedding rings.
Made in 9ct gold from the clients sentimental family jewellery.
Rounded edge Malvern Hills remodel
This ring was made by combining the clients parent's wedding rings to make one new ring, inspired by the Malvern Hills.
Allergy free palladium wedding ring
Palladium and recycled diamond wedding ring. The diamonds came from the client's silicone (due to metal allergy) engagement ring and old diamond earring.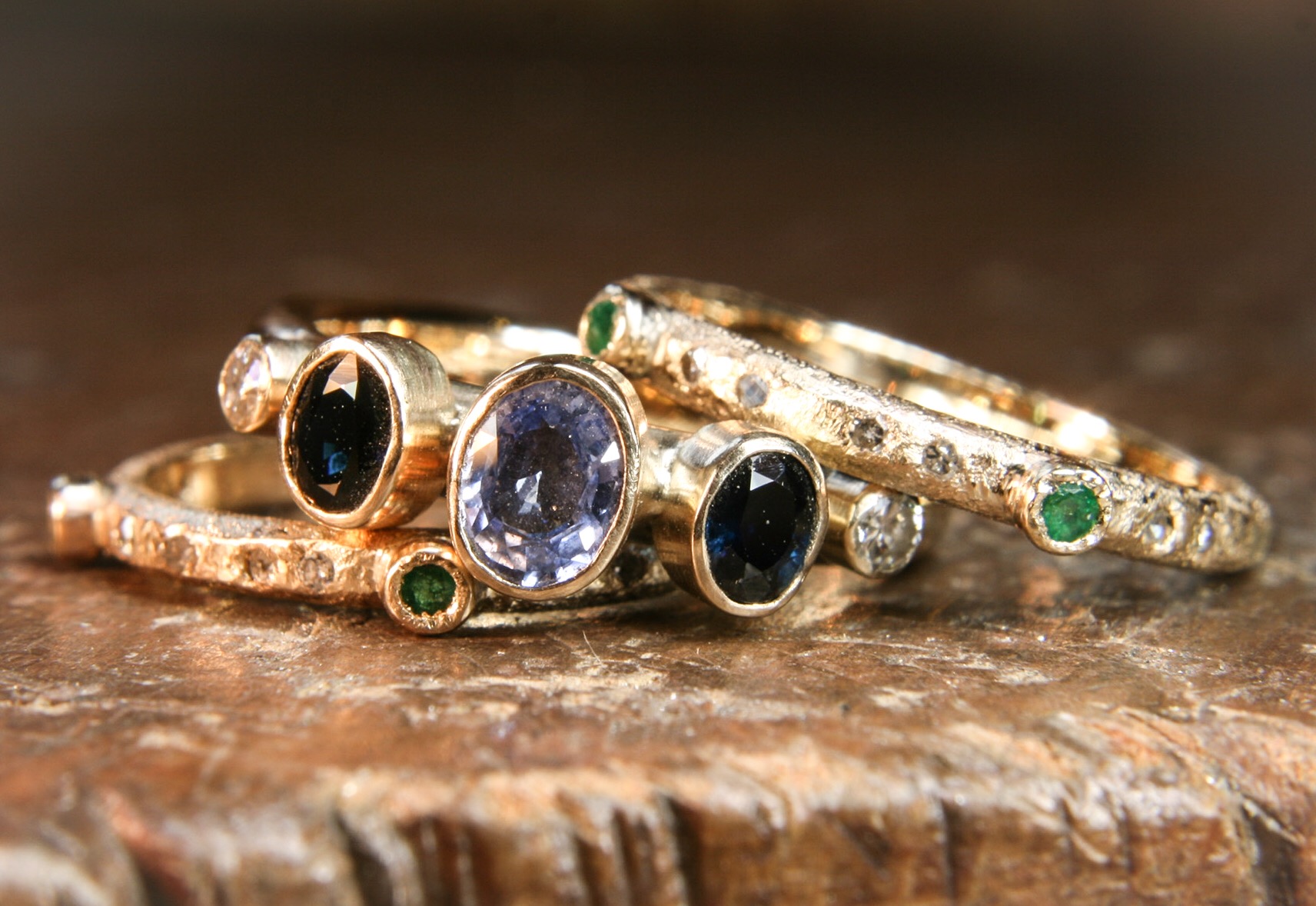 Multi-stone gold stacking rings
Remodelled 18 carat gold, sapphire, emerald and diamond stacking ring set made entirely from the client's old jewellery.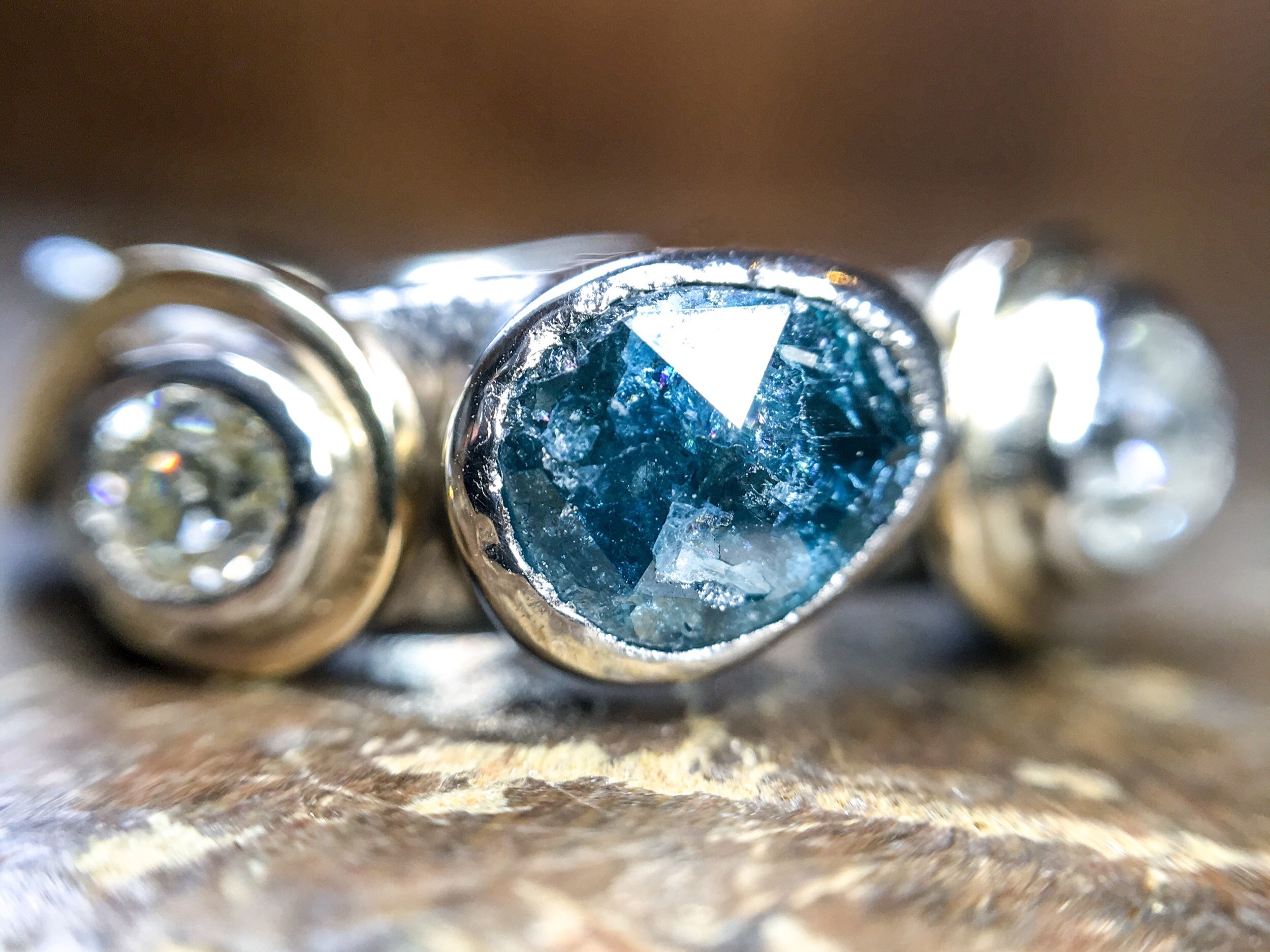 Blue diamond ring
New palladium and blue rough cut diamond with remodelled 18ct gold and old cut diamonds.
"Mum" ring
This ring was designed to remember the clients Mum. The gold detailing on this ring was created by melting down a selection of her old gold jewellery.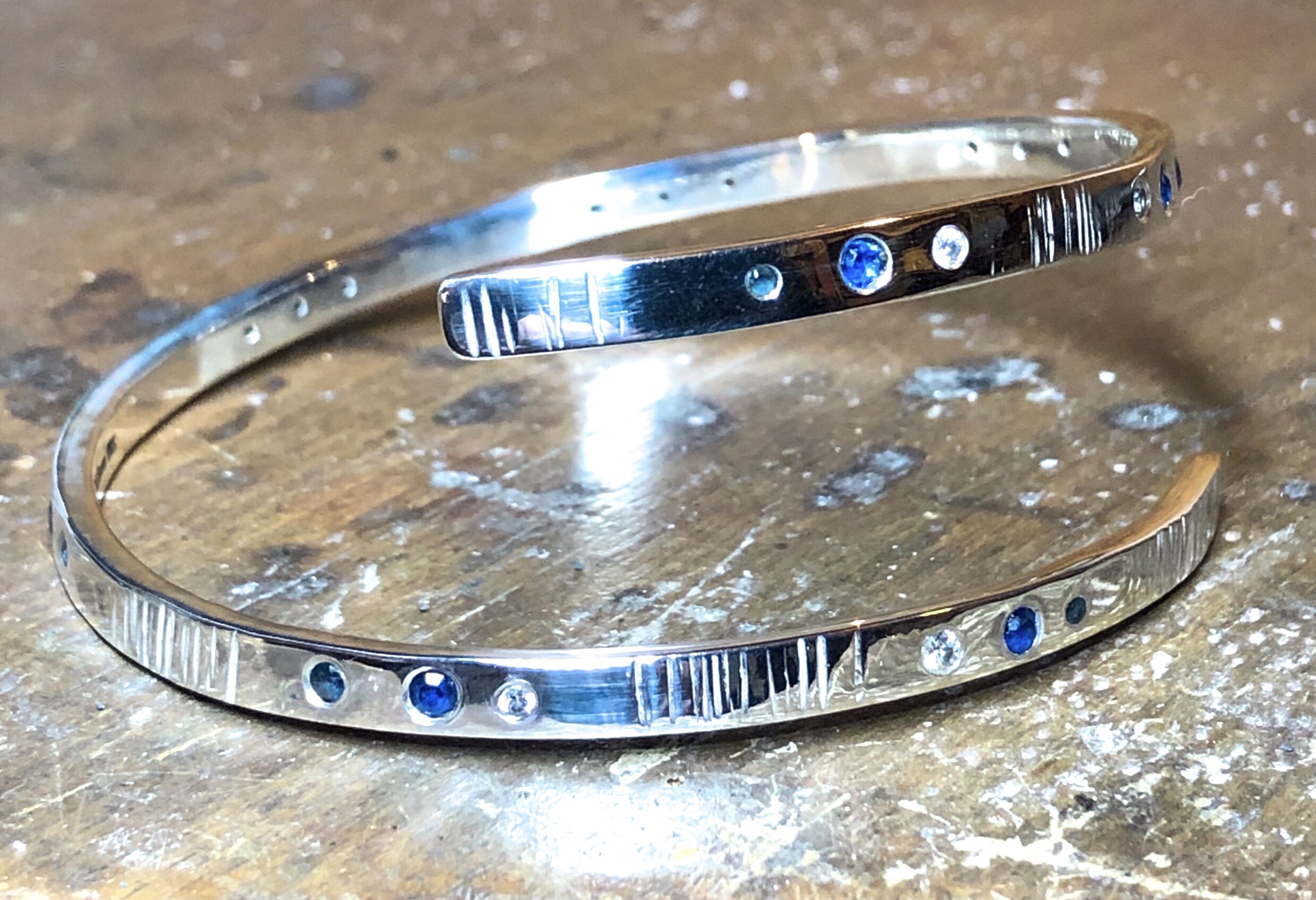 40th Birthday Bangle
This bangle was a commission from my Mum (Inhad to include one!) for my sister's 40th birthday. The silver is new, but the blue stones are from a piece of our Nan's old jewellery. They're just glass (making them incredibly difficult to flush set without breaking), but who cares!
Two colour gold rings
The subtle pattern on this set of rings was created by remodelling the client's 22ct and 9ct gold jewellery. It was very sentimental to him as it belonged to his grandmother. He also chose to add a beautiful 1/2ct lab grown diamond to his fiancee's engagement ring.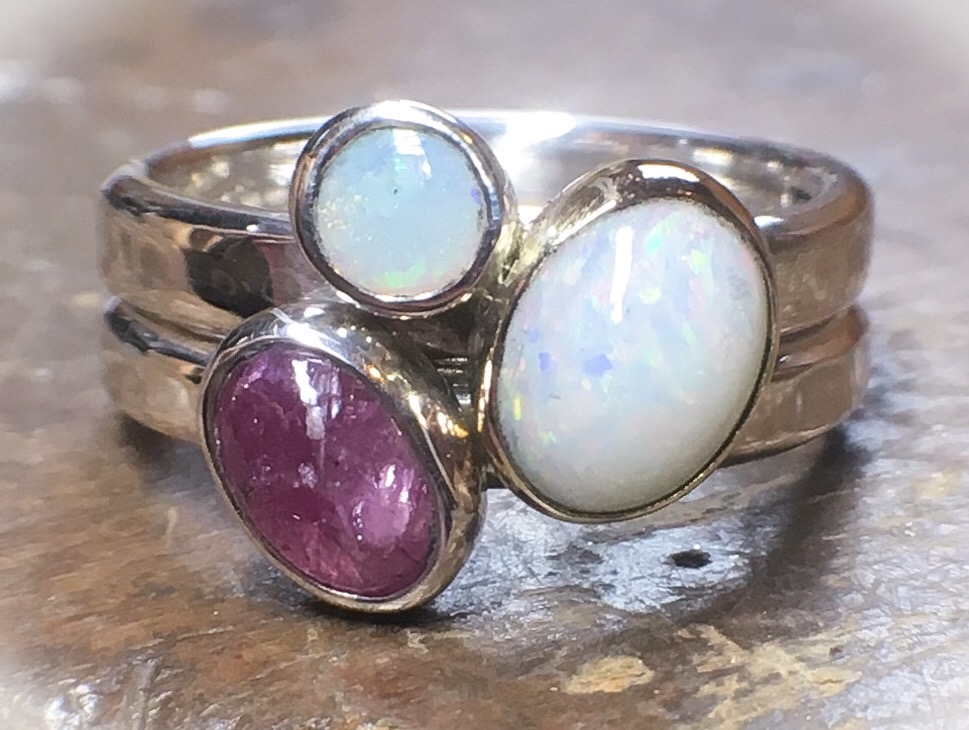 Opal and ruby stacking rings
The opals and gold for the settings came from a selection of the clients old gold jewellery.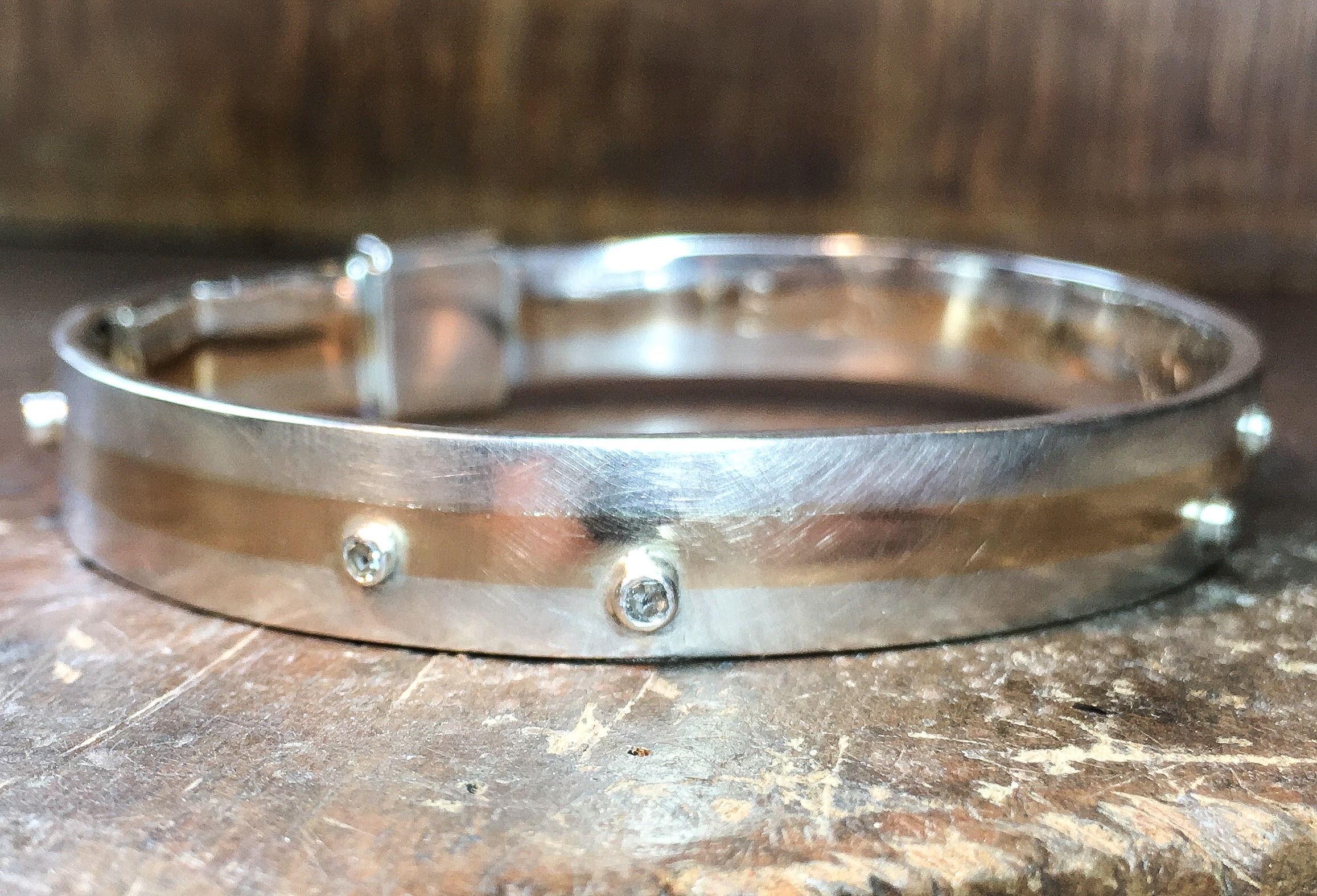 Heavyweight gold and silver bangle
The centre gold stripe was made by melting down a selection of the client's old jewellery and combined with recycled silver and some subtle Charles and Colvard lab grown moissanite.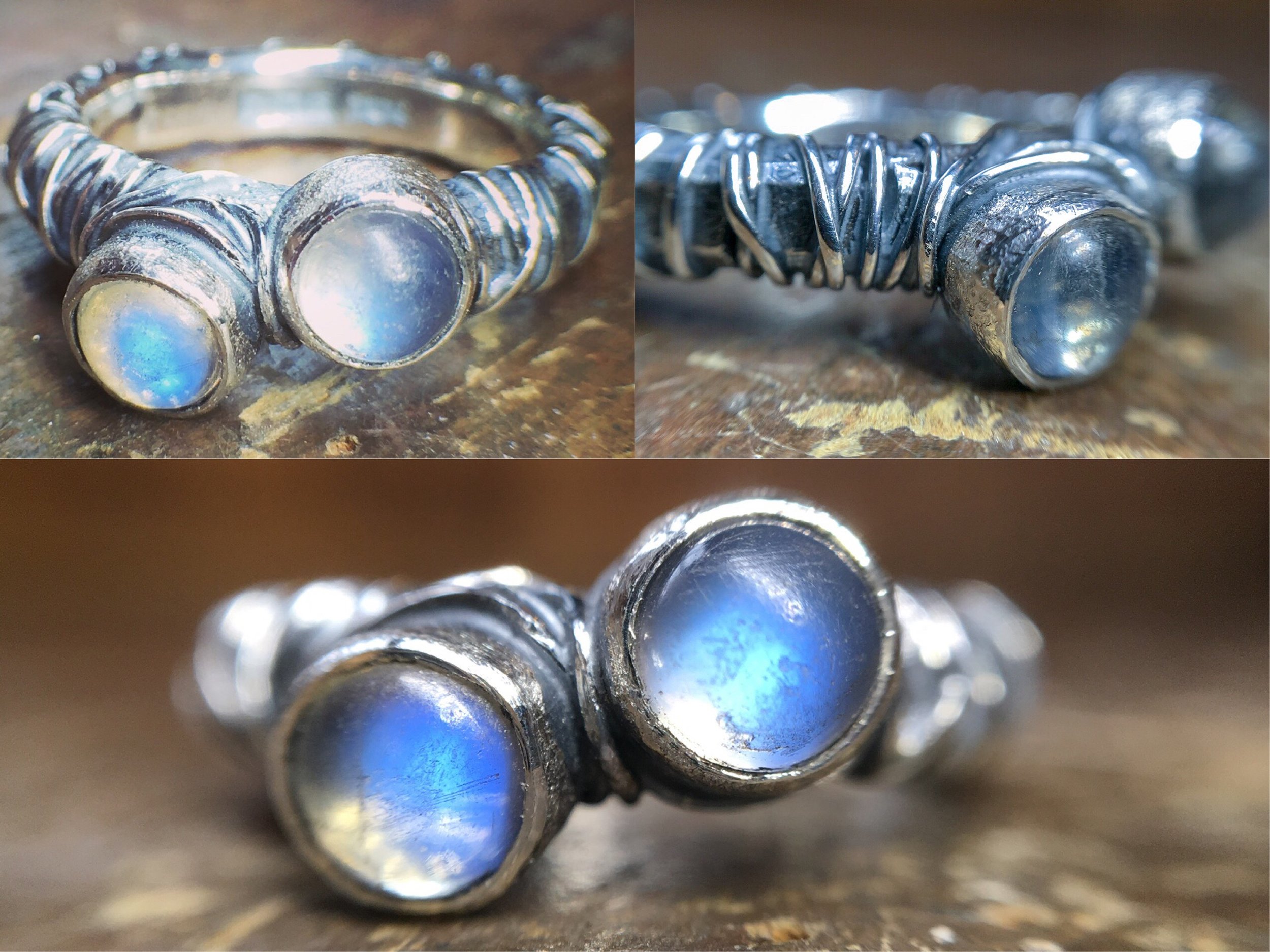 Moonstone recycled silver ring
This ring was originally wider and had three stones, but one had been lost, so I re-designed it to incorporate the two remaining moonstones.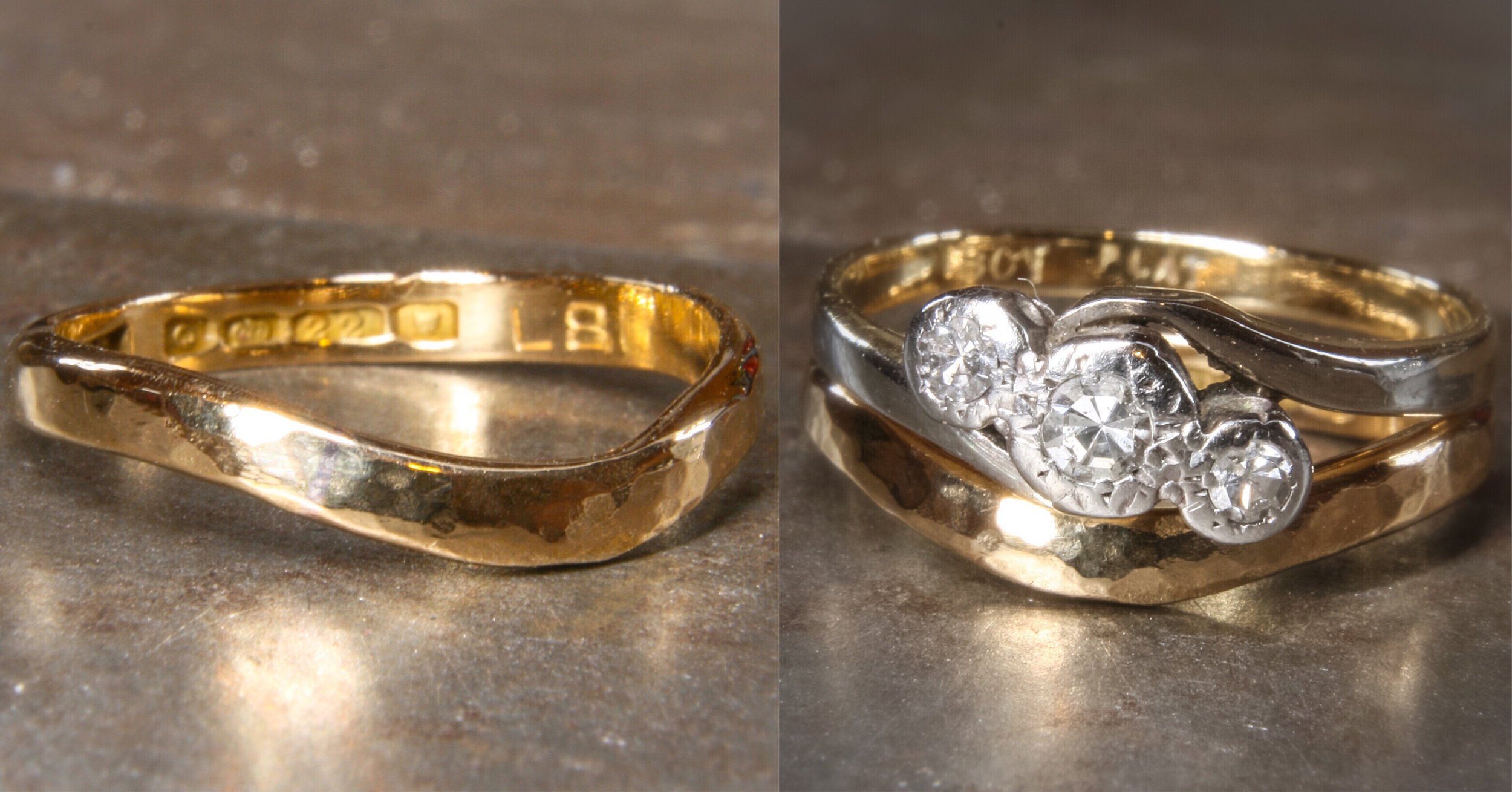 Remodelled 22ct gold wedding ring
This wedding ring was remodelled from a sentimental family ring to fit perfectly next to the client's existing antique engagement ring.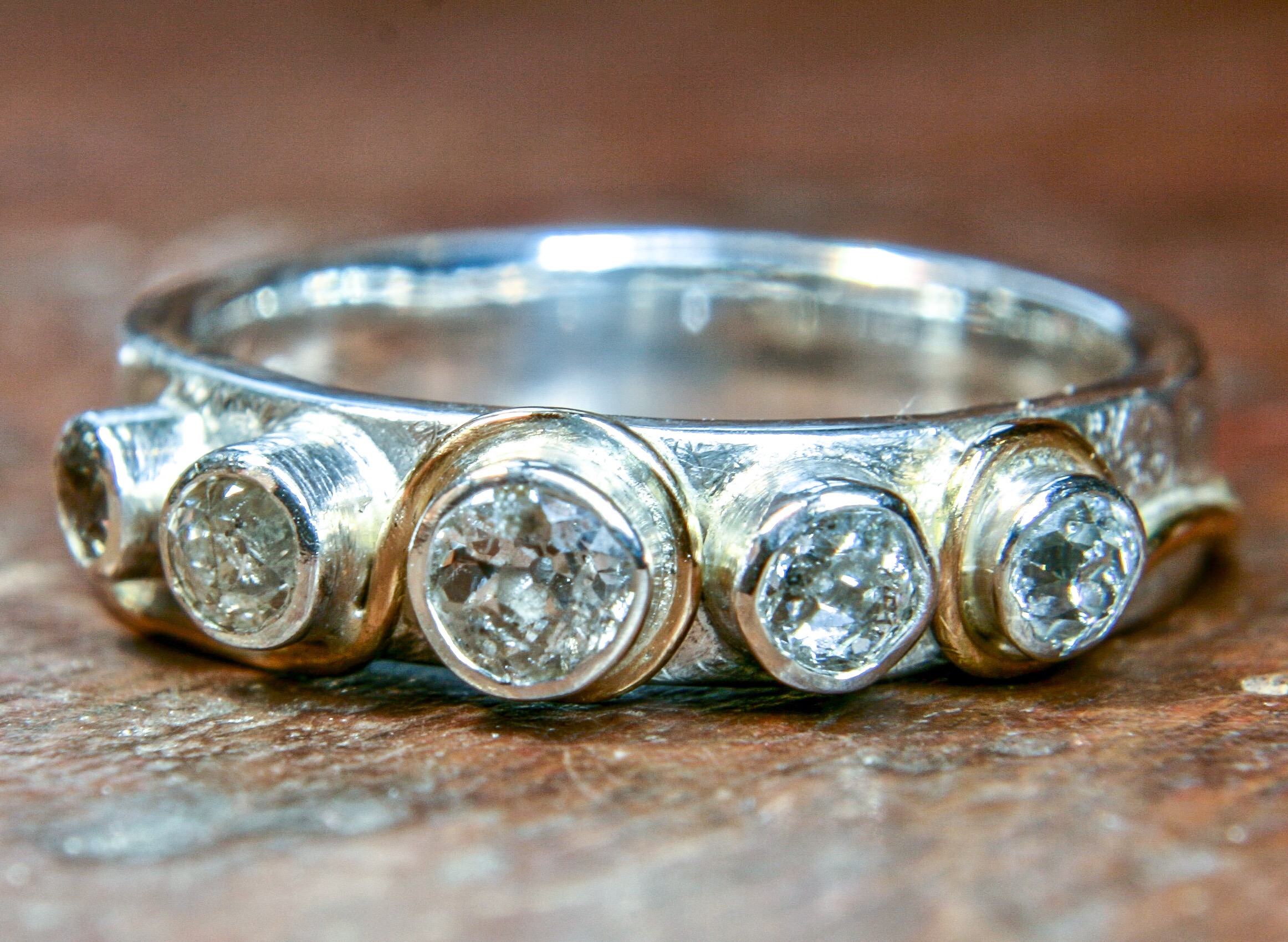 Remodelled yellow and white gold ring
18ct yellow and white gold, remodelled from an old ring, set with 5 old cut diamonds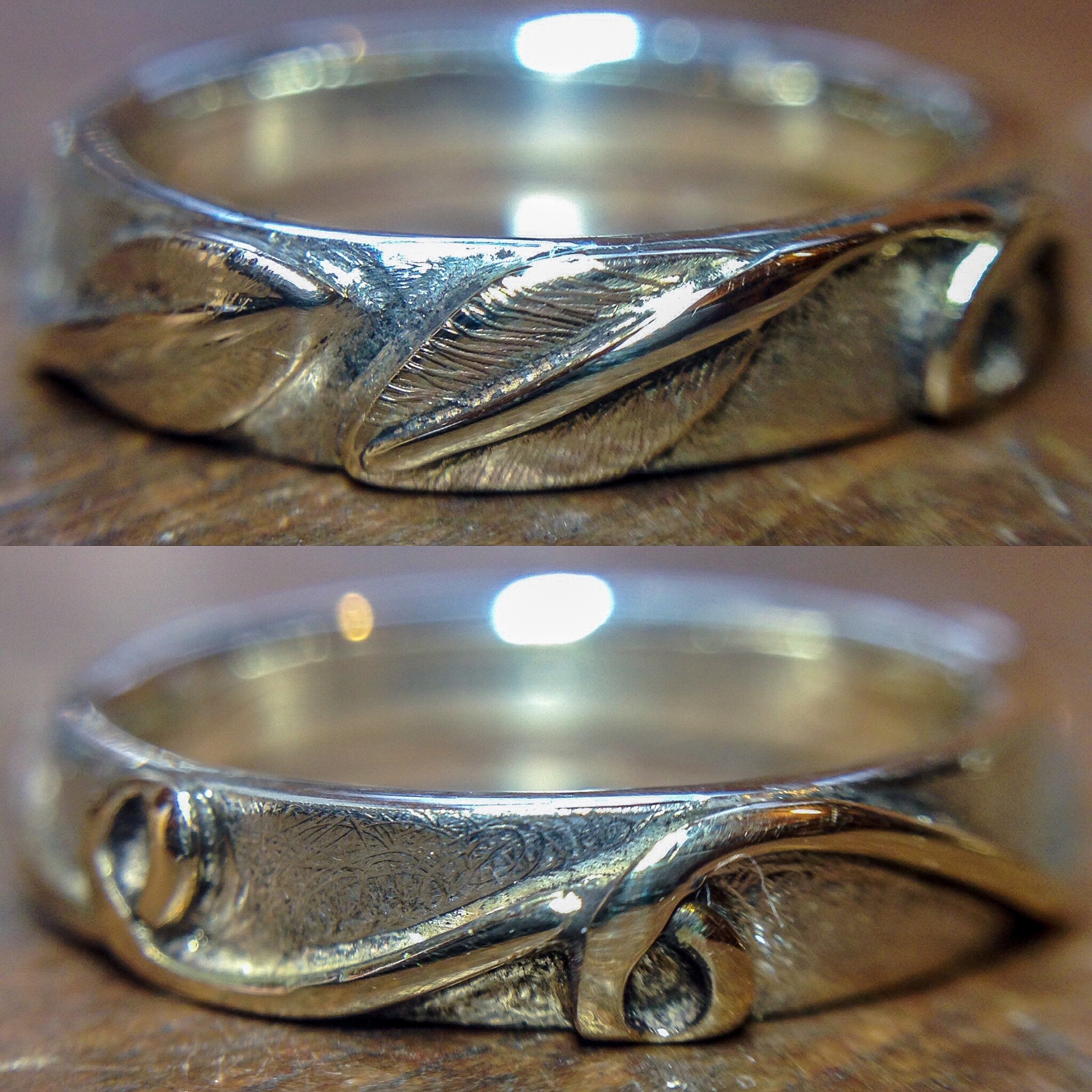 9ct white and yellow gold ring
The yellow gold detail has been remodelled from an old family ring, and added to a new white gold base.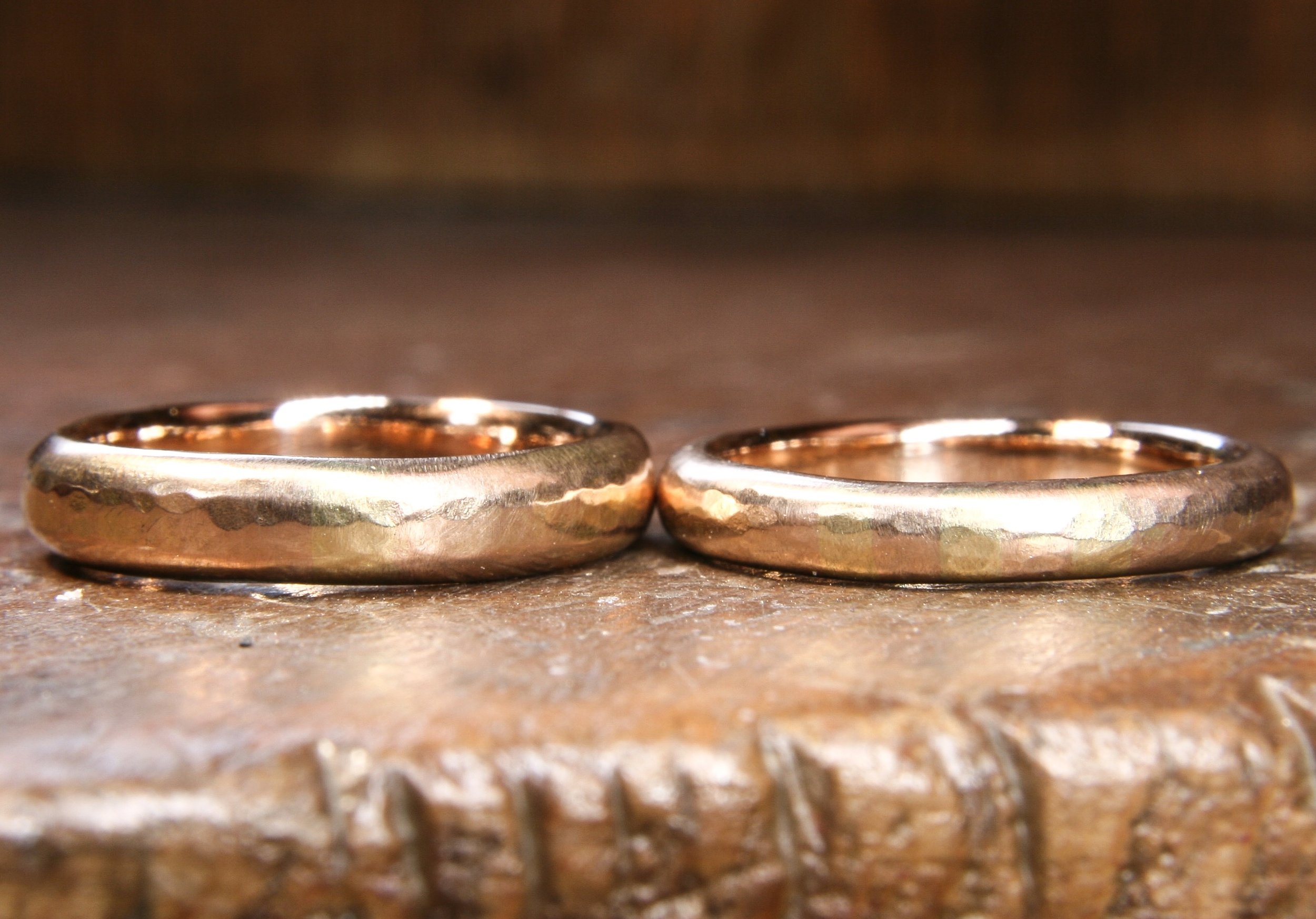 Rose gold wedding rings
This couple both wanted rose gold, but also wanted to re-use an old yellow gold ring. The result is a pair of rings with a subtle yellow gold stripe in each one.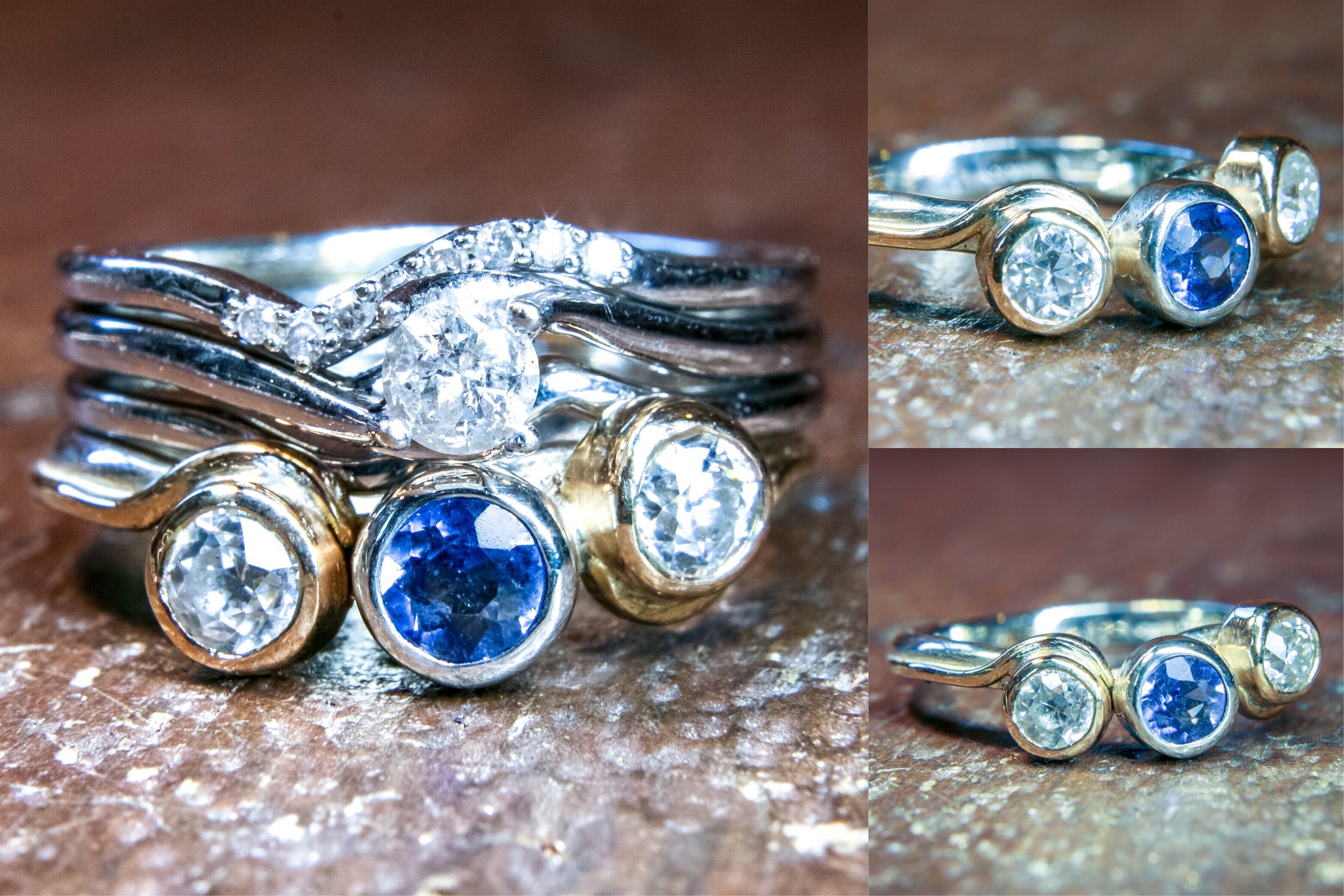 Sapphire and diamond ring
The wedding ring was remodelled from the client's sentimental old jewellery, and designed to either fit next to her existing stacking engagement ring set, or look just as good on its own.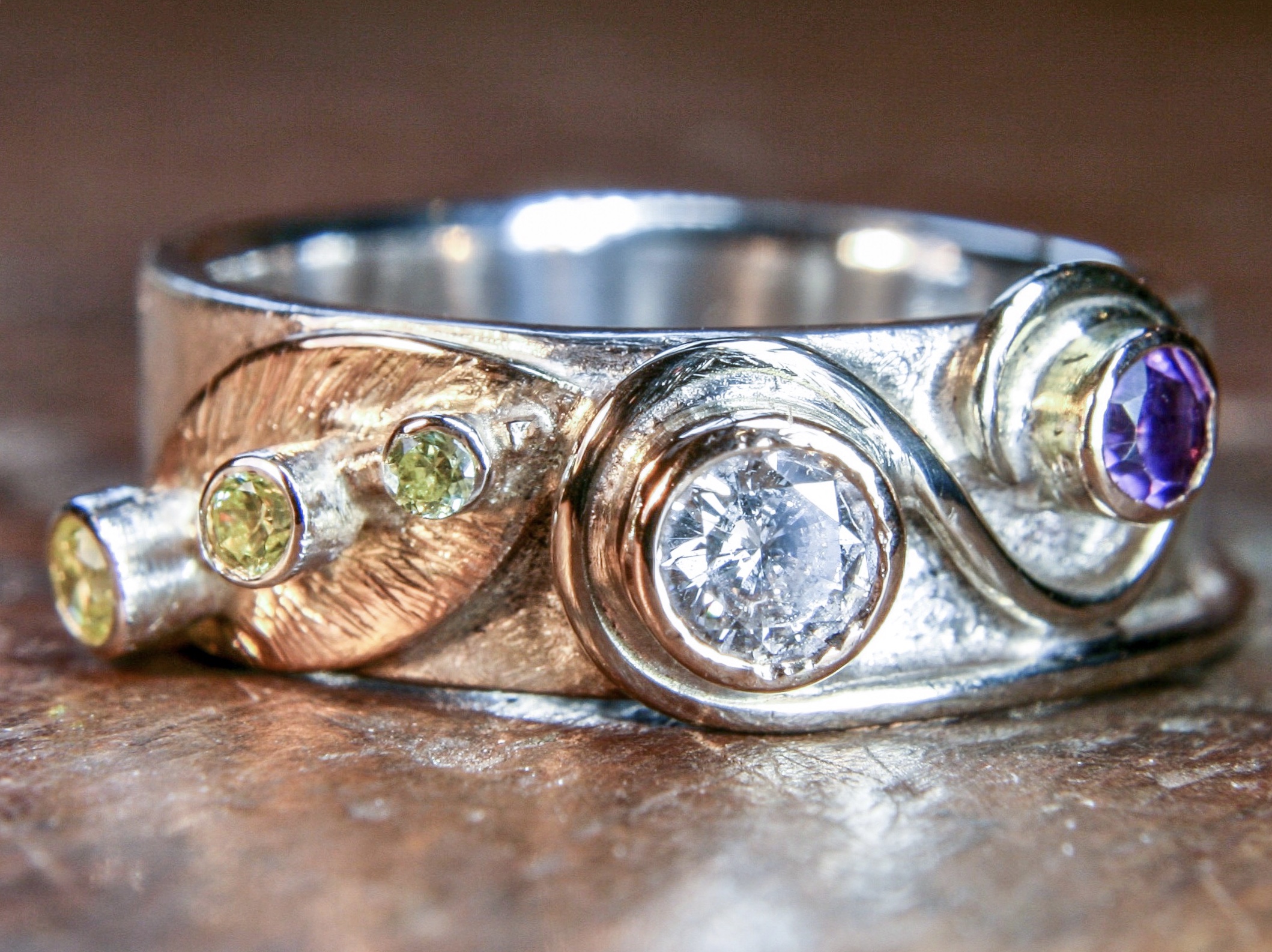 Multi-stone remodelled ring
Rose and yellow gold remodelled from old jewellery, set with diamond, amethyst and peridot.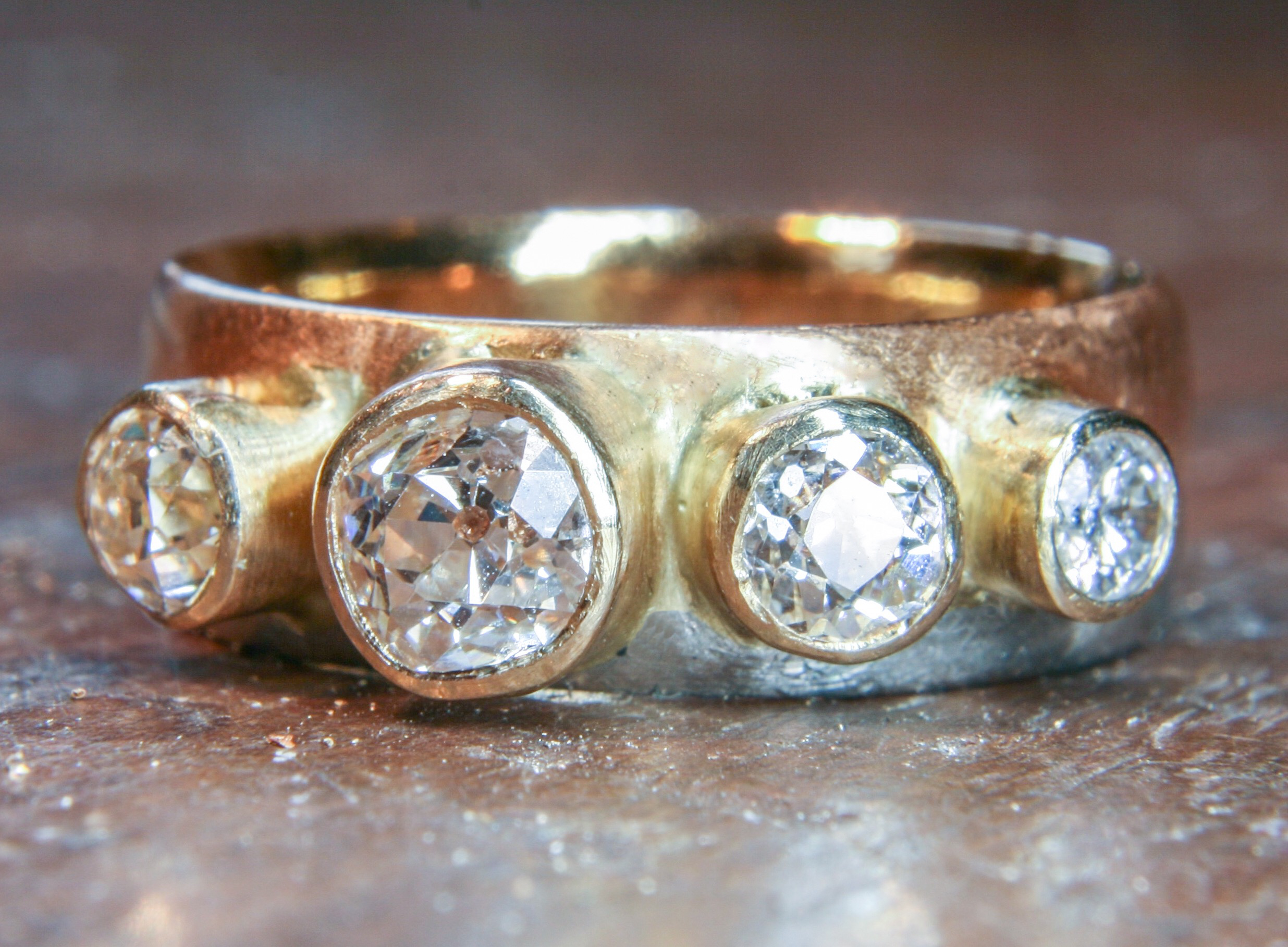 Platinum, 18ct gold and diamond ring
This is remodelled from a very hard platinum ring and a very soft 18 carat yellow gold ring set with four gorgeous old cut diamonds. SOme very careful soldering was needed!
9ct white gold remodelled ring
A ring for an 18th birthday present. Set with citrine and aquamarine.